[GapeLand] v92050 Anal training of Liz
Episode
:
GapeLand v92050 Anal training of Liz
Release date
: 2011.07.21
Starring
:
Liz
Oh, Liz, you naughty little girl! You can't get enough, can you? First the big dildo to warm up your tight, sweet asshole, then you seduce
Omar
with an open air blowjob to your couch, because you want to feel his big, erect cock deep inside your ass. Doing all this in front of everyone, because you turn on by the thought that they will see your gaping butthole in the end. Naughty-naughty
Liz
!

>>DOWNLOAD SAMPLE VIDEO NOW<<
Photoset: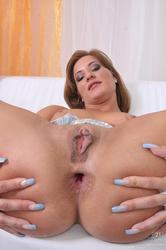 >>Join and DOWNLOAD NOW<<
--------------------------------------

Join to GapeLand and Download [GapeLand] v92050 Anal training of Liz