[RoxyRaye] My Fucking Machine
RoxyRaye My Fucking Machine
Added 09/01/2011
Starring
:
Roxy Raye
I bought myself a new toy. It's big, and pink, and runs forever, or until I turn it off because my pussy is sore! Introducing my new fucking machine, probably the greatest invention after the dildo, lol. I used it for the first time on video for you guys, but I didn't have any large attachments yet, so my normal toy will have to do. I used it in both of my holes, and I even stuck a second toy in my ass along side it to really get that stretching feeling. You'll be seeing a lot of my new toy in the future!
>>Join and Download Video NOW!<<
Photoset: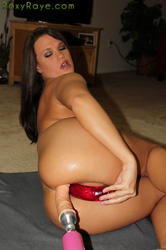 >>Join and DOWNLOAD NOW!<<
-----------------------------

Join to Roxy Raye and Download [RoxyRaye] My Fucking Machine
If you liked [RoxyRaye] My Fucking Machine video, share it with your friends!