[Roxy Raye] Anal Queens Love BBC
Roxy Raye Anal Queens Love BBC
Added 10/08/2013
Featuring
:
Roxy Raye
,
Ava Devine
Continuing on from the naughty anal video last week, Ava Devine and I were waiting patiently for a big black cock after we worked our abused our assholes out together. Legendary black stud, Lexington Steele makes his way in to use our slutty holes we just worked up. We share his cock, slurping and sucking up the messy spit, feeling his monster BBC grow in our mouths. We take turns riding his amazingly huge rod and share the taste of him as it's pulled out of each of our holes. Tasting Lexington's cock right as it came out of Ava's juicy ass, was heaven on a hard dick! Lex had me in the pile driver while Ava held my legs back, feeling his BBC hit my gspot from inside of my ass, I couldn't help but to have an orgasm. We all had fun sharing each other. Ava and I ended up having him plaster cum all over our faces with his yummy load, we couldn't help but to share the load after and swap that cum back and forth.


>>DOWNLOAD NOW!<<
Photoset: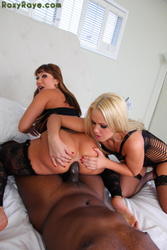 >>DOWNLOAD NOW!<<
-----------------------------

Join to Roxy Raye and Download [Roxy Raye] Anal Queens Love BBC
If you liked [Roxy Raye] Anal Queens Love BBC video, share it with your friends!