LatexAngel Anal sex in sling
"Now it's about time to fuck your asshole with my cock" he said and put the strap on dildo aside. Pre stretched from the horsecock he had no trouble at all pushing down his prick into my intestines.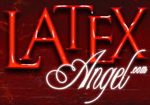 Episode 67: The L word
Added
: 25-05-2009
Directed by
Raul Cristian
Featuring
:
Clara G
,
Sandy
I'm not a lesbian, I'm just a liberal who loves getting laid in the back of a long ass limo, and who better to share the ride with than one of my closest and dearest friends. Now you guys know her as Sandy and she is one of the most popular eurobabe models ever created. But that's not the only thing we have in common, we both run our own companies and we both love getting fisted at 75 mph in a 65 mph zone just so we can flash our tits at the speed camera. Now I warned you guys before, "never let a bitch get bored", you're just asking for trouble (in this case double trouble). So, in this scene with my girl Sandy, the L word is simply LOVE.