[RoxyRaye] Deep Anal in the Park
RoxyRaye Deep Anal in the Park
Added 06/09/2011
Starring
:
Roxy Raye
This video was one of the very first that was not planned at all. I went to the store the previous day and had some toys and lube left in the car. I was dressed up and on my way to dinner when my partner and I passed a county park. I have been craving some deep anal lately and I decided to make a quick stop before I filled my belly with food. I quickly pulled my pantyhose down and got started working my ass with my new toys. They easily slipped in a whole 12 inches each! I kept fucking my ass hard with the foot long dong until my pussy came! It's usually really hard for me to cum when I'm getting it in the butt but I think those extra inches in me really hit the spot! I finished off by watering the park with my pee then it was off to dinner :-) Hope you enjoy my spontaneous video!
>>Join and Download Video NOW!<<
Photoset: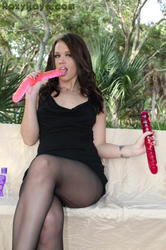 >>Join and DOWNLOAD NOW!<<
-----------------------------

Join to Roxy Raye and Download [RoxyRaye] Deep Anal in the Park
If you liked [RoxyRaye] Deep Anal in the Park video, share it with your friends!