[Roxy Raye] Puppy Play with Ashley Fires
Roxy Raye Puppy Play with Ashley Fires
Added 08/27/2013
Featuring
:
Roxy Raye
,
Ashley Fires
In this fetish type update, I play a cute little dalmatian puppy dog and Ashley Fires as my dog master. I wasn't being very obedient and was unhappy I was left alone in my cage for so long. I lifted my leg and pissed everywhere in the cage and in my doggie bowl. My master, Ashley came out to find what a bad puppy I was making such a mess. She pulled me out by a leash and made me lap up it in the dog bowl and swallow several gulps. Ashley then proceeded to spank my ass for punishment of my actions as well. Ashley wanted to see if I was maybe being disobedient for another reason, turns out I was being a bitch in heat. She used her fist to open my ass up then some of my dog toys too. I was rewarded for being a good little bitch by taking a large pink doggie dildo, gagging all over it and being fucked in each hole, trying to take it up to the knot. If this is the typical treatment for a bad puppy, I think I will have to be disobedient more often. Wait until you guys see our next update that's going up in another two weeks, which is the raunchiest g/g update I've ever done!


>>DOWNLOAD NOW!<<
Photoset: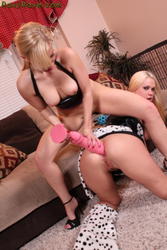 >>DOWNLOAD NOW!<<
-----------------------------

Join to Roxy Raye and Download [Roxy Raye] Puppy Play with Ashley Fires
If you liked [Roxy Raye] Puppy Play with Ashley Fires video, share it with your friends!