[Roxy Raye] Oktoberfest Schlampe
Roxy Raye Oktoberfest Schlampe
Added 10/24/2013
Featuring
:
Roxy Raye
Since I wasn't able to go to Germany this year and check out Oktoberfest, I decided to make my own little celebration of pumpkins, squashes and beer, of course. I used some wild looking, curvy pumpkins and you are able to see my asshole stretch around them slowly as I push them in and out. I didn't want to just celebrate and drink beer for you guys, I thought it would be better if I used my funnel to cleanse my hole out with a little brew. So, with a little beer enema and fucking myself with a variation of beer cans, I would say I enjoyed myself! :-)


>>DOWNLOAD NOW!<<
Photoset: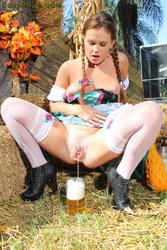 >>DOWNLOAD NOW!<<
-----------------------------

Join to Roxy Raye and Download [Roxy Raye] Oktoberfest Schlampe
If you liked [Roxy Raye] Oktoberfest Schlampe video, share it with your friends!