[Roxy Raye] Cold Wide Steel
Roxy Raye Cold Wide Steel
Added 11/28/2013
Featuring
:
Roxy Raye
My new speculum came in the mail recently from a lovely fan. I wanted to work my hole up the biggest I've ever done for this new toy. I pump my inflatable plug up to the widest ever! My ass was so relaxed after the inflatable and ready to feel a man hand penetrating my hole. He plunges his hand in and out with ease. I take out the speculum and start to screw it wider and wider, so it almost makes a full complete circle. You literally see and hear all the naughtiness going on in my ass. I found it to be such a turn on that I was as wide open as I was. I take some of my very long dildos and penetrate deeply with the speculum still in. Flipping myself over, then filling myself with the fake gooey cum, I slide my fingers in my insanely tight pussy hole and make myself cum. As I'm orgasming you can see my ass muscles pulsating inside. I can't wait to play around with the speculum more, maybe even in public sometime :-)


>>DOWNLOAD NOW!<<
Photoset: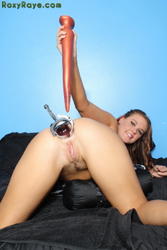 >>DOWNLOAD NOW!<<
-----------------------------

Join to Roxy Raye and Download [Roxy Raye] Cold Wide Steel
If you liked [Roxy Raye] Cold Wide Steel video, share it with your friends!