Download RoxyRaye - Anal Prolapse, anal fisting and other extreme!
Bonus Show (12-11-2010)
>>DOWNLOAD NOW!<<
First Hardcore (19-12-2010)
>>DOWNLOAD NOW!<<
Holiday Ass Dessert
Added 12/23/2010
Happy Holidays, everyone! I decided to do a special holiday update for you, and I really got good and messy this week. I made a special dessert for this update, and it all took place in my ass! Merry Christmas to all of you, and have a safe and great week!...
>>DOWNLOAD NOW!<<
Peehole Pleasure
Added 12/26/2010
Here is my second bonus update for December... I did something a little different this time. I was in the bedroom, playing with my little peehole, when the camera comes in and catches me. I was using a tiny sound, but it felt quite good going deep in my urethra. I even got my big vibrator out to have an orgasm before going to sleep for the night...
>>DOWNLOAD NOW!<<
Anal Play Time
Added 12/30/2010
I gathered up some odd objects for this shoot, then stuck them up my ass... one by one. A rubber cock, a mini football, a couple plastic toy balls, and even a soda can and a water bottle. Of course, my fist found its way inside my ass quite a few times, too. :-)
>>DOWNLOAD NOW!<<
Camshow Replay (1-2-2011)
Added 01/04/2011
Here is the replay from my camshow on January 2, 2011. I started off with a surprise hidden in my pants, and stuffed my holes with really big toys for the hour long show. Happy New Year, everyone!
>>DOWNLOAD NOW!<<
Shower Time
Added 01/06/2011
When I left you guys last week, I was going to get cleaned up a bit in the shower after fucking myself silly with several toys. Well, the camera followed me into the bathroom, so I decided that I wasn't quite finished playing yet. I had a little fun on the toilet with some toys first, then got into the shower and fucked myself with a big, black dildo. I had to close the door, though, because I squirted so hard I would've ruined the camera! I licked my cum off the shower door, then did what I planned on doing from the start... I finally got all cleaned up.
>>DOWNLOAD NOW!<<
No More Fake Cocks!
Added 01/13/2011
I don't mean "no more" ever again... just for this week's update, lol. You guys have requested that I have a little interaction with a real cock, and I always try to do what I'm told, so this update is for you guys. :-) A sloppy, wet blowjob followed by a good fucking and finger...
>>DOWNLOAD NOW!<<
Camshow Replay (1-9-2011)
Added 01/11/2011
Here is the replay from my camshow a couple days ago. Lots of anal, big toys, and even some pumping. If you haven't seen one of my live shows, then you need to check them out...
>>DOWNLOAD NOW!<<
Camshow Replay (1-17-2011)
Added 01/18/2011
Here is the replay from my latest camshow, and it was a messy one. Nothing like shoving veggies into my pretty holes, then following it up with a fist and some giant dildos! And, if you guys want a chance at winning a 1-on-1 show with me, or even a free membership to my site here, then you have to watch my live show!
>>DOWNLOAD NOW!<<
How Low Can You Go?
Added 01/20/2011
I brought out some small traffic cones to see how low I could go in my ass with each one. I tired to get a little lower on each one, then I used my cone shaped buttplug for a grand finale. How low can you guys go? ;-)
>>DOWNLOAD NOW!<<
Pee on Me
Added 01/27/2011
I did a shoot in the shower this week, where I started by stretching myself out with a few objects, but then things took a turn for the wet. Alysha came in and pissed all over me until I was soaked... and I loved every second of it!...
>>DOWNLOAD NOW!<<
Camshow Replay (26-01-2011)
>>DOWNLOAD NOW!<<
Filled to the Rim
Added 02/03/2011
You guys wanted me to get nastier, and I always try to please... I started by gaping my asshole wide open with a speculum, then asked my BF to piss into my gaping hole. He filled me all the way up with his warm piss, which felt awesome. After pulling the speculum out I fucked myself good with a couple dildos until all of the piss ran out of my gaping butthole. Keep those requests coming...
>>DOWNLOAD NOW!<<
Camshow Replay (2-3-2011)
Added 02/08/2011
Here is the replay from my camshow that I did last week. I started off by shaving my pussy on cam, which had grown into quite the bush. I then moved on to some pussy stretching, using gradually larger toys. Then, my asshole needed some attention, so I started small, then worked up to some large toys in my butt. Finally, I shoved a baseball up my ass and pushed it back out. All in a day's work... :-)
>>DOWNLOAD NOW!<<
Packing Fudge
Added 02/10/2011
Catchy title, huh? Well, it couldn't be closer to the truth as I fuck a few fudgesicles in this week's messy update. This is especially for all of you guys that have requested more messy food updates... it doesn't get much messier than this!
>>DOWNLOAD NOW!<<
Apple for the Teacher
Added 02/12/2011
What do all good girls do for the teachers they love? They bring an apple, of course. And, that's just what I did for my teacher, except I wrapped it up in a nice package... my asshole!
Photoset
:
>>DOWNLOAD NOW!<<
Camshow Replay (2-13-2011)
Added 02/13/2011
Here is the replay from the camshow I did earlier today. My ass took a real beating in this cam show, as you'll see if you just click the play button below. I wore a little Valentine's outfit just for you guys, then got some toys and jammed them up my butt, lol. I'm really working on stretching myself back there, and you'll see what I mean when I bring my BF in to shove his entire hand up my butthole! He even pisses all over me, for those that are looking for more extreme stuff!
>>DOWNLOAD NOW!<<
POV Sucking & Fucking
Added 02/17/2011
I was attempting to film my first fucking/sucking POV video for you guys but It was a lot harder than I thought trying to keep the camera steady while I'm bouncing on a hard cock. Hopefully you guys still enjoy this raw footage of me sucking, fucking and squirting all over a yummy cock. Oh ya, I can't forget about the load I got on me too :)
>>DOWNLOAD NOW!<<
Camshow Replay (2-21-2011)
Added 02/22/2011
Here is a replay of the camshow I did last night. I played with some big toys, some anal beads, and my favorite Hitachi vibrator. I even buried my fist deep inside my holes! If you guys aren't catching me live, then you're missing out, because I give away a free 1-on-1 show every single week!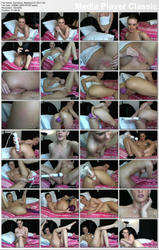 >>DOWNLOAD NOW!<<
At the Fair
Added 02/23/2011
The state fair was just here in my state last week so I decided to bring my flip camera along so you guys could get a sneak peek video blog of my fun day. It was so busy there I hardly had anywhere to show my goodies to you all but knowing me though, I found a place and it happened to be on the ferris wheel. I also captured some video of me feeding some really cute animals! Hope you enjoy! Don't worry guys, this is a bonus clip, tomorrow there will be a regular video update for the week :) xo
>>DOWNLOAD NOW!<<
My Magic Butthole
Added 02/24/2011
Have you ever seen the magic shows where the guy puts a rabbit in his hat and it disappears? Well, this is nothing like that... lol. Actually, I just thought it was a cute title for this weeks update, since I do my best to make some incredibly long dildos disappear in my cute butthole. Enjoy!
>>DOWNLOAD NOW!<<
Eating Healthy
Added 02/26/2011
The best way to stay fit isn't working out... it's eating healthy. I'm here to show you just how to do it. All you need is a few fresh veggies and one gaping asshole. You have to fuck the gaping asshole first, to get that fresh ass taste on the veggies, then you enjoy! Finish it all up with a rosebud dessert!
Photoset
: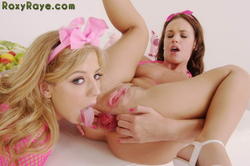 >>DOWNLOAD NOW!<<
Robotic Roxy
Added 03/03/2011
I had a little fun with this weeks update... I was slowly transforming into a robot, and there was only one way to stop it. I had to fuck my pretty silver asshole with some of the biggest toys in my robotic toy box. You'll have to watch it all, though, to see if I'm still human. :-)
>>DOWNLOAD NOW!<<
Camshow Replay (3-2-2011)
Added 03/06/2011
Here is the replay from my latest cam show, where I used some soda cans, as well as some toys, my shoes and my trusty fist to really tear my holes up.
>>DOWNLOAD NOW!<<
Cream Filled Cocksicle
Added 03/10/2011
Well, actually I was the one that was cream filled, but it just didn't sound as good... but, once my ass was filled with cream I used the big, black cocksicle to plunge deep into my butt and make a real mess of things. Messy fun, that starts with some self fisting and my oiled up ass for you guys that like that end of me. :-)
>>DOWNLOAD NOW!<<
---------------------
Page 1
|
Page 2
|
Page 3
|
Page 4
|
Page 5
---------------------