Download RoxyRaye - Anal Prolapse, anal fisting and other extreme!
Roxy RayeExtreme Solo
Added 03/12/2011
Here is a special update that I did for Evil Angel Video a couple months ago. It's just me, solo, but I fill my holes full of some rather large objects!
Photoset
:
>>DOWNLOAD NOW!<<
Bubbles
Added 03/17/2011
It all started innocently enough in the tub, lots of bubbles and a sexy pink outfit. But, it didn't stay innocent for long, as I looked for anything and everything to shove inside my ass. Bottles, my stockings, bubbles straight from the bottle, a pink ball, even my necklace found its way deep inside me. And, of course I had an assortment of big dildos that I used to go deep and wide!
>>DOWNLOAD NOW!<<
Camshow Replay (3-17-2011)
Added 03/19/2011
Here is the replay from my camshow that I did on St. Patricks Day, so of course I went all out, complete with my cute green outfit, green beer, green body paint, and even green balls up my ass!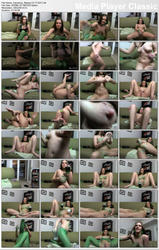 >>DOWNLOAD NOW!<<
When the Guys are Away, the Girls Will Play
Added 03/24/2011
I did a shoot recently with my new friend Carmen Valentina. She hasn't really been exposed to the extreme side of things, but I did the best I could to change that all in a few minutes. What started out as a fairly tame scene, ended with Carmen's fist buried deep inside me, then her driving a giant dildo in my ass while I fucked my pretty pussy with another big toy.
>>DOWNLOAD NOW!<<
Locked Up Lesbians
Added 03/26/2011
OK, so maybe we aren't lesbians, but the title sounded good... Here are the photos from a scene I did for Evil Angel Video, along with Alexis Texas and Tori Black. Lots of gaping buttholes that day!
Photoset
:
>>DOWNLOAD NOW!<<
Camshow Replay (3-10-2011)
Added 03/13/2011
Here is the replay from my camshow a few days ago. If you missed it live, then shame on you! I give away a free one-on-one show during each members show, so if you want to have me all to your self for free, then you have to watch me live. This week's show was great... lots of big toys, whipped cream, fisting, and even the whole world in my butt!
>>DOWNLOAD NOW!<<
Camshow Replay (3-27-2011)
Added 03/29/2011
I have added my camshow from this past Sunday for you guys to watch. Like always, I try and give you guys the best live show on the web, and it's always free for members! This week I used my regular arsenal of big toys, but I had a couple of surprises... like a bong and even a miniature bomb! Bombs away!
>>DOWNLOAD NOW!<<
I'm All Pumped Up
Added 03/31/2011
I got some good feedback from the last pumping video I did, so I decided to do it all over again for you guys. I brought out some smaller ones this time, though, and was able to pump my nipples, clit and even pull my rosebud out for you guys... all at the same time! Enjoy!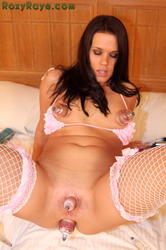 >>DOWNLOAD NOW!<<
Fists & Feet for Roxy
Added 04/07/2011
Hopefully you saw the update yesterday for Alysha's site, where I took advantage of her by jamming my limbs inside her holes. But, it was her turn to return the favor today, and that's just what she did. Fists and feet were put in almost every hole I have, and it made for a great shoot. Hope you guys enjoy this one half as much as I did.
>>DOWNLOAD NOW!<<
Camshow Replay (4-4-2011)
Added 04/09/2011
My latest camshow is a must see for all of you piss lovers... you nasty fuckers! :-) I got really messy this time, and pissed into a funnel attached to a clear tube. I drank my own piss out of the tube and spit it back all over myself and even drank some for good measure. Mmmm... I taste pretty good! And, just because I can, I fucked myself with a few large toys to finish myself off. Enjoy!
>>DOWNLOAD NOW!<<
Pumping My Prolapse
Added 04/14/2011
Do you guys remember a couple of updates ago when I was upset that I didn't get my pump cylinder on time for the other pump shoot? Well I finally got it and I was putting it to a new test tonight. As the camera starts... I waste no time showing the work I did on my ass before I clicked the record button. This video is all about my rosebud. I show you how big I can pump it up, push it out and fill it up with creamy loving. This video is not only one of my favorite updates because of how good it felt but really how slutty it made me feel after, too. Hope you enjoy this one as much as I did! :)
>>DOWNLOAD NOW!<<
Jail Bait
Added 04/16/2011
Here are a few more pics from the shoots I did with Jay Sin a few months ago. You've already seen the ones I did with the other girls, but I also did some solo shoots...
Photoset
:
>>DOWNLOAD NOW!<<
Camshow Replay (4-16-2011)
Added 04/19/2011
Here is my latest camshow, where I shoved some rather unusual objects up my butt... from tomatoes to a miniature basketball. I even pumped my asshole inside out for you guys!
>>DOWNLOAD NOW!<<
Back (Door) in Black
Added 04/21/2011
I'm back in black, I'm in the sack, I think it's time to drain your nut sack... lol. :-) For you AC/DC fans, that's all I could think of. I'm in all black today using some rather large toys in my back door. Hope you enjoy...
>>DOWNLOAD NOW!<<
Bombs Away!
Added 04/28/2011
I tossed around a few different titles for this video... I played with a rubber snake, pumped a blow up buttplug in my ass, fucked myself with anal beads... but the best one I could come up with had to do with the green bomb I shoved inside my butthole... then pushed out, bombing the camera!
>>DOWNLOAD NOW!<<
Camshow Replay (4-30-2011)
Added 05/03/2011
I got a little freaky in this week's live cam show. I started wityh my usual hole stretching, but took it a little farther by bringing in a guy to play with me, first by handcuffing me and giving me a little corporal punishment, followed by fucking me with some large toys, then fucking me with his cock and leaving a huge mess in my mouth and on my face. Lots of fun!
>>DOWNLOAD NOW!<<
Beach Toys
Added 05/05/2011
I went to the beach this past weekend, camera in hand, to do a little playing in public. We found a nice spot, somewhat secluded, but with people clearly visible in the background, and I went right to work on my ass, using some insanely large toys right there in plain view of everyone. I even got up and walked around with some huge anal beads dangling from my butt. I'm sure a few people could tell I was up to know good, but that's the way I like it!
>>DOWNLOAD NOW!<<
Blonde Roxy Gets Man Handled
Added 05/12/2011
Since this week I was short an extra hand, my partner and I decided to station the cam on a tripod and go to town with some real, raw action. I've been such a nasty girl as of late and it was time that I was used and abused to someone else's liking. I loved the feeling of bending over and letting someone else take the lead for a change. I think this was the first time I had ever been stretched out that far! I enjoyed every minute of getting my ass fisted, fucked, spanked and destroyed with an assortment of big toys.. oh and not to mention the blonde change of hair for this video Hope you guys enjoyed the stationary raw video! I know I did :)
>>DOWNLOAD NOW!<<
Camshow Replay (5-9-2011)
Added 05/14/2011
Here is the replay from my latest cam show, where I start out by beating my asshole up with multiple toys and even my fist. After my butt is nice and sore, I move on to my pussy, using toy bats and anything else I could find! :-)
>>DOWNLOAD NOW!<<
Piss, Paintbrush & Speculum? Oh My...
Added 05/19/2011
Last week I was being a submissive slut, this week was no different. I was more in control but I still enjoyed being a little piss slut and kneeling in front of a pissing cock, slurping it up like candy. I was beginning to get really wet but I wanted more. I flipped myself over and shot a stream of piss right into my own face and mouth. I was completely drenched and felt sluttier than ever. I sat back in a chair and spread my pussy open wide with a speculum then tested out some new tools in some new holes. Not only did I use bigger tools for my urethra I also tried fucking my cervix for the first time. It was all a really great experiment of pleasure :-)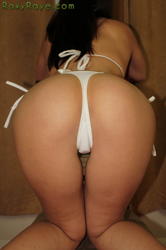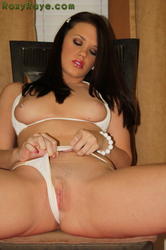 >>DOWNLOAD NOW!<<
Side of the Highway Slut
Added 05/26/2011
I took this weeks update back outside, stopping along the side of the highway to get down and dirty. I brought along some veggies and toys to play with, and went right to work burying them deep in my holes. My pussy, ass, and even my mouth got a workout, all while cars passed by just a few feet away...
>>DOWNLOAD NOW!<<
Camshow Replay (5-22-2011)
Added 05/28/2011
I decided to show my support for the home team this week, and got dressed up in my baseball jersey to have a little fun. I used some of my toys for a while, but of course I had to stick with the theme and bring out my baseballs and bat! Of course, you guys know where they ended up!
>>DOWNLOAD NOW!<<
-------------------------
Page 1
|
Page 2
|
Page 3
|
Page 4
|
Page 5
-------------------------