Download RoxyRaye - Anal Prolapse, anal fisting and other extreme!
RoxyRaye Eating Healthy
Added 08/20/2011
I posted the photos from this a few months ago, but I now have the full uncensored video to go along with it, so I'm reposting the pics along with it...
The best way to stay fit isn't working out... it's eating healthy. I'm here to show you just how to do it. All you need is a few fresh veggies and one gaping asshole. You have to fuck the gaping asshole first, to get that fresh ass taste on the veggies, then you enjoy! Finish it all up with a rosebud dessert! Photos and video courtesy of Evil Angel Video.
>>DOWNLOAD NOW!<<
RoxyRaye Camshow Replay (8-13-2011)
Added 08/22/2011
Here is the replay from my latest hour long cam show that I ONLY do for my members. It's as close to one-on-one action as you can get, PLUS I give one lucky member a chance to win a private show with me. But, you don't get it watching these damn replays... you gotta see me live!
>>DOWNLOAD NOW!<<
RoxyRaye Working Out the Deep Muscles
Added 08/25/2011
I turned the camera on so you guys could join me in a workout session. I worked out my legs and arms, then decided I wanted to hit some of those deep muscles... the ones deep in my ass! I used whatever I could find to stretch and really work on those ass muscles, and I made sure I was completely satisfied with my workout by the end...
>>DOWNLOAD NOW!<<
RoxyRaye My Fucking Machine
Added 09/01/2011
I bought myself a new toy. It's big, and pink, and runs forever, or until I turn it off because my pussy is sore! Introducing my new fucking machine, probably the greatest invention after the dildo, lol. I used it for the first time on video for you guys, but I didn't have any large attachments yet, so my normal toy will have to do. I used it in both of my holes, and I even stuck a second toy in my ass along side it to really get that stretching feeling. You'll be seeing a lot of my new toy in the future!
>>DOWNLOAD NOW!<<
RoxyRaye Camshow Replay (8-25-2011)
Added 09/03/2011
Here is the replay from my latest webcam show, where I did lots more extreme anal, and even broke out the whipped cream! Lots of messy fun this week...
>>DOWNLOAD NOW!<<
RoxyRaye A Gagging Good Pedicure
Added 09/08/2011
For all of you foot lovers out there... I decided to do a special video just for you. I also get lots of requests for more gagging stuff, so I figured... why not combine them into one? So, I hope you guys like my gagging good pedicure! Let me know what you think!
>>DOWNLOAD NOW!<<
RoxyRaye Nothing "Butt" a Good Time
Added 09/15/2011
My man and I got a hotel recently and decided to turn on the camera and have some fun with each other. We put the camera on a tri-pod and let it roll while he pushes toys, his cock, fingers and fist. It's always a challenge for me to get his hand in my ass because his wrists are so big! One wrist is almost 4 inches wide! With that girth it was bound to make me cum hard. After my man saw how hard he made me cum with his fist.. he couldn't resist sticking his cock in my stretched open hole. I sure got a nice mouthful of cum that was totally unexpected :-)
>>DOWNLOAD NOW!<<
RoxyRaye Duplicate Douple Penetration
Added 09/22/2011
We stayed at a nice hotel that had a huge full length mirror in one of the rooms, and I decided to have a little fun with some suction cup toys while watching myself stretch out my holes. The last time I did this I abused just one of my holes, but this time I was determined to beat them both up. I started out slow, but before long I had two giant toys pounding away at both of my pretty holes, and it felt so good that I couldn't stop myself from squirting all over my twin in the mirror. What an awesome night!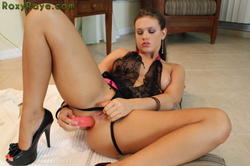 >>DOWNLOAD NOW!<<
RoxyRaye No Holes Barred
Added 09/29/2011
So, you guys have seen me fuck my pussy, fuck my mouth and of course fuck my pretty asshole. But what about my "other" two holes? Open me up wide enough and you'll see my cervix, way down inside my sexy pussy, which gets its fair share of attention today. And, there's my peehole, which also gets to join in on the fun! No holes barred today!
>>DOWNLOAD NOW!<<
RoxyRaye Roxy's Massterpiece
Added 10/06/2011
I was recently in the craft store picking up some art tools when I had the idea to make some art using my body parts instead of your typical painting tools. I picked up everything I needed and was excited to get home, set up and try it. I filled myself to the brim with all types...
>>DOWNLOAD NOW!<<
RoxyRaye Hair Today, Gone Tomorrow
>>DOWNLOAD NOW!<<
RoxyRaye Torture Time
Added 10/13/2011
Notice for anyone with a fear of needles- This video update displays play piercing. A lot of people asked me if I would do play piercing on camera so I figured, why not? I've enjoyed it in the past. I first had the urge to try this in a sexual manner many years ago. As crazy as this sounds, I've been very turned on while getting real piercings and giving my blood, so one day I looked online for play piercing needles and wanted to give it a try.
>>DOWNLOAD NOW!<<
RoxyRaye Quick Fix of Cock
Added 10/20/2011
This video update was just two people enjoying some naughty, raw fun together. I was craving cock all day and I got my wish when I saw my guy hard as a rock. I couldn't wait to stroke his cock with my mouth and make him explode! I got a nice load of cum in my mouth and I made sure to lick it all up clean, like a good girl should. I got a nice little surprise at the end, but you will have to watch it and see what happens. Enjoy :-)
>>DOWNLOAD NOW!<<
Roxyraye Public Enema #1
Added 10/27/2011
I took to a local playground this week for a little fun in public. I started with a deep enema to really fill my ass up, then squirted it all out, even through my pants and on the camera lens! Some fisting and big toys in my butt came next, so my asshole was all stretched out. And, I finished it all off with some veggies deep inside my holes. All of this in broad daylight where I could easily have been caught! I guess I am Public Enemy #1. :-)
>>DOWNLOAD NOW!<<
RoxyRaye Close Up, Candy Coated Rose
Added 11/03/2011
I wanted to give you guys a little closeup when I played with some of my Halloween candy, as I shoved them deep into my asshole then pushed them back out for a yummy snack. The camera stayed close as I pushed my candy coated rosebud out of my butthole and gave you guys a good view. Enjoy!

>>DOWNLOAD NOW!<<
------------------------
Page 1
|
Page 2
|
Page 3
|
Page 4
|
Page 5
-----------------------